Design your Birthday Wish with Animated eCards. Free.
Copy the generated personalized wish (or write your own) and then Paste it into the personal message of your chosen template. These templates are animated – Click Preview before sending to see the custom animation.
Choose from 100+ templates, made with the help of AI
Preview and email/print/share your birthday wish. It's that simple ->
Choose from the templates below:
We also offer a selection of Happy Birthday Animated Gifs which you can simply download and share (right click, save):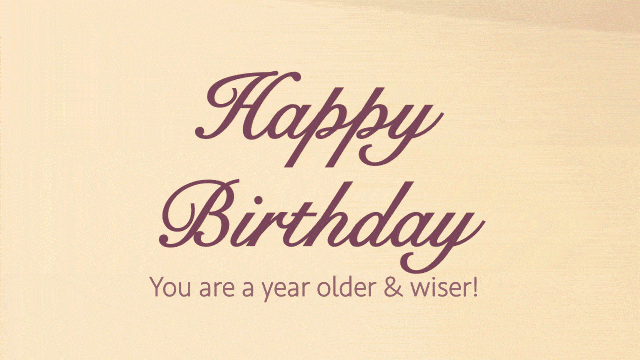 Example Generated Birthday Wishes AI Text
Short and Simple Birthday Wishes
🎉🌟🎈 Happy Birthday, dear Sister! You are truly a shining star in my life, constantly radiating love and care in everything you do. On this special day, I wish you a birthday filled with love, laughter, and countless beautiful moments. You deserve all the happiness in the world, and I therefore hope that this year brings you even more reasons to smile. 🎉🌟🎈
✨🎈🌟 Sending you heaps of love and hugs on your birthday! May this day be as extraordinary as you are dear . Happy birthday! 🌟🎈✨
✨🌈✨ Dear sister, may this birthday be the beginning of an amazing year ahead, filled with love, happiness, and more beautiful moments. You deserve all the love and joy that life has to offer. Happy birthday, and may all your dreams come true! 🌈✨🌟
✨🎈🎉 May your birthday be a reflection of the love and kindness that you bring into this world. As you blow out the candles on your cake, may your wishes come true and your heart be filled with joy. So here's to another year of spreading love and making a positive difference in the lives of those around you. Happy birthday, dear friend! 🎉🎈✨
🎉🎈🎉 Happy birthday to the most loving and caring friend! 🎉🎈🎉 On this special day, I wanted to take a moment to celebrate the beautiful soul that you are. I am truly grateful to have you as a friend. You have a heart of gold that shines brightly, bringing warmth and happiness to everyone around you. May this day be filled with the same love and care that you so selflessly give to others. 🌟🎈✨
🎈🎉🎂 Happy Birthday to the man who can fix anything with duct tape and a hammer! Today is the day we celebrate the legend, the myth, the dad-extraordinaire! You deserve all the balloons, stars, and party hats in the world for being the best dad a kid could ask for.🎉🎈🎉
🎈🎉🎂 Wishing the happiest of birthdays to the most amazing dad in the universe! Today is all about celebrating you and the incredible person you are. May your special day be filled with joy, love, and laughter. 🥳🎈🎉
🥳🎈🎉 Dad, you are the shining star of our family. Your wisdom, strength, and kindness make you truly remarkable. It's no wonder that everyone looks up to you and admires you. On this special day, I want you to know how grateful I am to have you as my dad. Your love and support mean the world to me. 🥳🎈🎉
🌟🎈✨ Happy birthday to the most amazing woman in the world! Today is all about celebrating you and everything that makes you so special. From the moment you came into this world, you have been spreading joy and love to everyone around you. 🎈🎉🎂
🎉🎈🎉 On your special day, I hope all your wishes come true. May this year bring you happiness, laughter, and all the love your heart can hold. Thank you for being the rock of our family and for being there for us every step of the way. First and foremost, you are truly an inspiration and I am so proud to call you my mom. 🎉🎈✨
For longer birthday wishes please see below a few generated examples:
For a friend, write like Shakespeare (click to open)
🌟🎈✨Dear Lora, on this blessed day, as the sun rises upon the horizon, I am compelled to convey my heartfelt wishes upon thee. Thou art a radiant soul, whose mere presence illuminates the lives of those around thee. May this auspicious occasion mark the commencement of a year filled with joy, love, and countless blessings. As thou embark upon another chapter of thy journey, may thou find solace in the arms of friendship and the embrace of loved ones.
May thy days be adorned with laughter that resonates through the very depths of thy being, and may thy heart be filled with an everlasting abundance of happiness. In this world of uncertainties, thou art a beacon of unwavering strength and resilience. Thy spirit, dear Lora, is akin to a flame that dances gracefully amidst the storm, igniting hope and inspiration in the hearts of all who behold. May thy light forever shine brightly, guiding thee towards greatness and fulfilling all thy aspirations.
On this special day, I take this opportunity to remind thee of the profound impact thou hast had on my life. Thy kindness, compassion, and unwavering support have been a constant source of comfort, and for that, I am eternally grateful. As thou celebrate this milestone, may thou be surrounded by the love and appreciation thou so rightfully deserve. Happy birthday, dearest Lora. May the celestial beings shower thee with infinite blessings, and may this year be the epitome of serenity, success, and unending joy. With deepest affection, [Your Name] 🌟🎈✨
For girlfriend, write like J. K. Rowling
🌈✨🌟Happy birthday to my dearest Anna! As you turn 30 today, I am filled with immense joy and gratitude for the incredible soul that you are. Your presence in my life has brought a serenity and harmony that is truly enchanting. On this special day, I wish you a year filled with boundless happiness, inner tranquility, and an abundance of love.
May each day be a tapestry of serendipitous moments and magical encounters as you continue to radiate your peaceful aura to the world. Your gentle spirit touches hearts and inspires those around you, reminding us all of the power of compassion and understanding. In the journey of life, you are a steady beacon of light, guiding us toward a world where harmony prevails. Your wisdom and calmness never cease to amaze me, and I am forever grateful to have you by my side. As we embark on another chapter together, know that you are cherished beyond measure and loved beyond words.
Happy birthday, my peaceful love. May your special day be filled with laughter, joy, and all the enchantment the universe has to offer. So, cheers to another year of tranquility and love as we create beautiful memories together. With all my love, Dan 🌈✨🌟
For Colleague, write like Harry Styles
🎉🌟🎈Dear [Colleague's Name], On this remarkable day, as you embark on another journey around the sun, I wanted to take a moment to wish you a delighted birthday. The mere fact that you have completed another fruitful orbit around the sun is a testament to your strength, resilience, and unwavering commitment to excellence.
Throughout the years, I have had the privilege of witnessing your remarkable dedication and drive. Your professional prowess has not only inspired those around you but has also set a benchmark that many aspire to achieve. Your ability to navigate through challenges and find innovative solutions is truly commendable.
On a personal note, I want to express my gratitude for your unwavering support and collaboration. Your willingness to lend a helping hand and share your expertise has made a significant impact on my own professional growth. Your ability to create a harmonious work environment, fostering collaboration and camaraderie, is truly admirable.
As you celebrate this milestone, surrounded by loved ones and cherished memories, may this birthday be the stepping stone to a future filled with success, happiness, and contentment. So, here's to another year of achieving remarkable milestones and surpassing expectations. Happy birthday, dear colleague! Warmest regards, [Your Name]"🎉🌟🎈
For a Friend/Colleague, write like Taylor Swift
🎉🎈🎉 Hey there, birthday babe! I heard you're turning 33, and girl, you're slaying it like no other. I hope you're ready to shake off any worries and bad vibes because this year is all about you and your fabulousness. You've come a long way, my dear colleague, and I couldn't be more proud of you. You've conquered every challenge thrown your way and managed to do it all while keeping that killer smile on your face. Seriously, how do you do it? I'm convinced you have some sort of secret recipe for eternal happiness, and I'm desperately waiting for you to spill the beans. But let me tell you, my friend, age is just a number because you're proof that it's not about the years we've lived but the moments we've celebrated and the memories we've made.
So, let's toast to another year of laughter, adventures, and singing at the top of our lungs like nobody's watching. May this year be filled with endless joy, success, and an unending supply of your favorite snacks because life is too short to deny yourself the good stuff. Oh, and one last thing before I go – thank you for being an incredible colleague and an even better friend. Your presence in the office (and in my life) is like a ray of sunshine, always brightening up the dullest of days. You are undoubtedly my superstar. I wish you the happiest of birthdays, and may the world be ready for all the greatness you're about to unleash. Love you to the moon and back!🎉🌟🎈
For Sister, simple style
🎉🎈🎉Happy 20th birthday to my incredibly talented and beautiful sister! It feels like just yesterday we were playing make-believe and dancing around the living room together. Now, you have grown into an extraordinary woman with a passion for dancing and acting that truly shines through every step you take and every character you bring to life.
Sis, watching you pursue your dreams with unwavering determination fills my heart with immense pride and joy. Your dedication and hard work inspire me each day, and I am grateful to be witness to your incredible talent. May this special day mark the beginning of a new chapter in your life, where success, happiness, and unforgettable opportunities flow abundantly in your direction.
Remember, dear sister, that you have always had my unwavering support and love. I am here to cheer you on, to lend a listening ear, and to celebrate all your victories, big or small. As you blow out the candles on your birthday cake, know that my greatest wish for you is to continue chasing your dreams fearlessly, never losing sight of the amazing person you are. I love you sis. 🎉🎈🎉
Read our comprehensive guide with a list of 100+ Great Birthday Wishes for Everyone
How It Works – Using Birthday Wishes AI
Instantly create the perfect birthday x to that special someone by simply entering your request, and how your feel about the celebrant and we will generate the greeting for you!
1. Create a Greeting
Use the AI Generator to create a special birthday wish. Copy and Paste the Birthday Into a Card ->
2. Design Your Card
Use one of our 100+ custom AI generated card templates
3. Share your Card
Share and send you card via email or social media.
Why use AI for Personalized Birthday Messages?
Artificial Intelligence can be used for personalized happy birthday messages for a many reasons as is evident on our site. Here are a few good reasons and benefits of using our service:
Time-saving: With AI, you can create personalized birthday messages quickly and efficiently.
Better Personalization – AI can generate a custom tailored birthday wish based on the person's interests and your preferred style of writing. This allows the system to generate personalized messages that align with the recipient's likes or hobbies and is more likely to become more meaningful to the recepient.
Emotional connection: Personalized birthday messages have the potential to foster a deeper emotional connection between the sender and recipient. By using AI to create personalized messages, you can demonstrate that you have taken the time and care to make the birthday wish special.
Creativity and novelty: AI algorithms can generate unique and creative happy birthday messages that go beyond the conventional quotes and wishes. By using AI, you can add a touch of novelty and surprise to the birthday messages, making them more memorable and enjoyable for the recipient. AI can introduce new ideas and concepts that can spice up your birthday wish.
In Summary, using AI for personalized birthday messages provides many advantages starting with efficiency by automating the process of composing and sending messages, eliminating the need for creative manual effort. Moreover, AI ensures tailored content by analyzing data and preferences of the recipient, resulting in messages that are personalized and relevant. Furthermore, AI-generated birthday messages create an emotional connection between the sender and the recipient, as the messages are designed to evoke genuine feelings and sentiments.
On top of this our AI adds creative elements to the birthday greetings, incorporating innovative and unique features that enhance the overall birthday wish and experience for both the sender and the recipient.